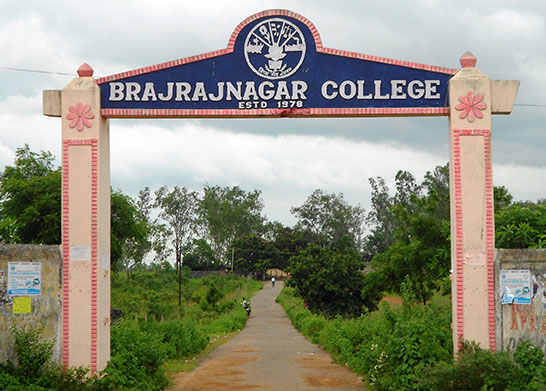 BRIEF HISTORY OF THE COLLEGE
Brajrajnagar College is an Aided Composite College under Department of Higher Education, Govt. of Odisha, situated at Brajrajnagar Municipality Area in the District of Jharsuguda, Odisha which is 12 KM away from Jharsuguda District Head Quarters.  Its +3 wing has affiliation to Sambalpur University, Sambalpur  and +2 wing has affiliation to the CHSE,Odisha. The college has NAAC accreditation with 'B' Grade in 2015.
The college was established in the year 1978 as a private institution in the NAC Brajrajnagar in the district of erstwhile Sambalpur. The dream of opening of a college became a reality with Sri Danda Pani Nayak as the Founder Secretary; with unstinting grant from the NAC, Brajrajnagar as well as the help of innumerable citizens of this industrial belt. Late Dr. J.K. Sahu, the then Minister, Urban Development, Govt. of Orissa laid the foundation stone of the college, on 15th August, 1978. Afterwards the institution was named as NAC College, Brajrajnagar. During the academic session 1983-84, in accordance with the decisions of Govt. of Orissa,the name of the college was renamed as Brajrajnagar College, Brajrajnagar.
The college received affiliation order to open Intermediate Classes in Arts and Commerce from Academic Session 1978- 79 and received Government concurrence in the year 1981. The teaching and non-teaching staff of the college received direct payment of GIA in 1984 as Degree college. The college got permanent recognition for Intermediate courses in the year 1982 and became a permanent affiliated college under CHSE, Odisha for intermediate courses in Arts, Science and Commerce from the year 1984. Besides, The College got permanent recognition for Undergraduate courses in Arts and Commerce in the Academic Session 1988-89. The college was included under section 2 (f) and 12 (B) of UGC Act vide letter no.F.8.23/87 (CPP-I) dt. 24.01.1991.
Honours classes commenced in Arts from 1995, in Commerce from 1992 and in Science from 2005. In addition to this, Vocational classes were opened with UGC grants and permission in the year 2005. The college got "C++" Grade by NAAC in 2005 during First Cycle and was accredited 'B' Grade in 2015 during Second Cycle. The total number of teaching and non-teaching staff working in the college is 44 and 27 respectively. The existing strength of students is 1124 in +3 wings and 1182 in +2 wings and the grand total student is 2306.
MISSION
To deepen and extend knowledge about the formation and utilization of human capabilities
VISION
Educating students for career success and personal development
Transforming lives and communities through learning
Creating an academic platform for excelling in diverse fields of education
Enhancing the commitment of faculty members, staff, and students of the college
Developing leadership quality among the students
Developing collaborative & professional relationships with other institutions focused on the improvement of education.
Enhancing the effective and efficient management of the College.
VALUES
Academic excellence and integrity
Outstanding teaching and learning
Scholarly research and professional leadership
Integration of teaching, research, and extension activities
Individual and collective excellence
Inclusivity, equity, and social justice
Lifelong learning
* ABOUT BRAJRAJNAGAR *
Brajarajnagar is a town and a municipality in Jharsuguda district in the state of Odisha, India. It is famous for MCL-owned coal mines and now-defunct Orient Paper Mills of Birlas established in 1936. Most of the population in this city were working for Orient Paper Mills, which belonged to Birla Group of industries. Brajrajnagar has in its vicinity numerous open-cast and underground coal mines of IB Valley Coalfield and Orient Colliery Area belonging to government-owned Mahanadi Coalfields Limited (MCL).